Dental Anxiety

Covington, WA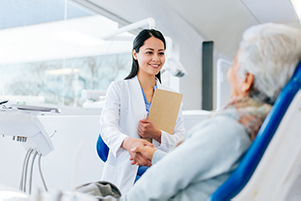 One of the biggest challenges we encounter here at Peak Endodontics is providing necessary dental treatment to patients who are suffering from dental anxiety. Dental related fear is undoubtedly one of the most common fears experienced by people all around the world, regardless of age, gender, and background. Patients who experience dental anxiety often have trouble sleeping the night before their dental appointment. They feel overly nervous and panic-stricken, especially when they are already sitting in the dental chair, and we can hardly start any procedure because of their emotional state.


Causes of Dental Anxiety

Patients suffer from dental anxiety for a variety of reasons, and one of the most common is fear of pain. We have encountered patients who have been traumatized by their past dental experiences with other dentists. Other patients, however, have simply heard dental horror stories shared by their close friends and family, and these anecdotes negatively impacted their impression of us and dental work, in general.

Another possible cause of dental anxiety is fear of needles or injections. While there are dental procedures that may require injections, not many patients know that we can use other options if they really cannot handle injections. Other patients feel anxious because of fear of the unknown or feelings of helplessness. Sitting in the dental chair with their mouths open and not knowing what is going to happen next, makes a lot of them uncomfortable and extremely nervous. There are also times when patients feel very embarrassed about their dental condition because they have neglected them for so long. No matter the reason, we are equipped to deal with all types of dental-related anxieties.


How We Help Patients With Dental Anxiety

Dealing with the dental anxiety of the patient is not something new to us. Every member of our team follows a protocol to make all of our patients feel comfortable and welcome. We take the time to listen to the concerns of our patients about visiting our office. We also explain dental procedures in detail so that our patients know what to expect and do not feel like they are losing some control. Since most patients with dental-related fear can not stay for long procedures, we have advanced tools and equipment that help us to complete dental processes much faster. We know that when our patients experience that there is nothing to be afraid of, they will eventually feel more relaxed during their visits.

If the dental anxiety is serious enough that it is practically impossible to get anything done or in cases where patients need to undergo complicated and long procedures, we rely on different forms of dental sedation to help them feel relaxed. We utilized minimal sedation like nitrous oxide or laughing gas, oral sedation where we let patients take medication to calm them down, and even administer general anesthesia where we put our patients into a deep sleep so that they will not be in pain.

If you are one of the many who feels panicky about dental procedures or knows someone who is, try calling us at Peak Endodontics for more information about how we handle dental anxiety at 425-358-9033.