Tooth Avulsion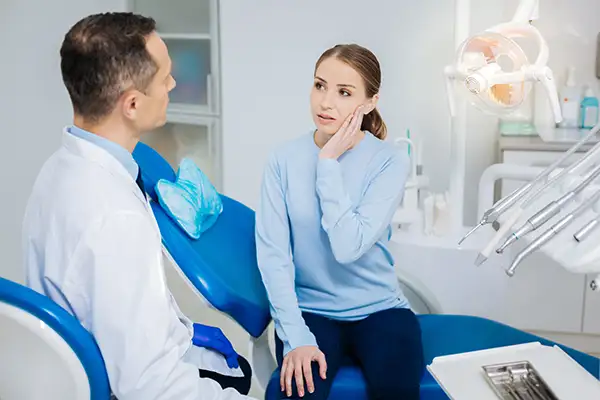 A tooth avulsion occurs when a permanent tooth gets dislodged from its socket and falls out because of an injury or accident. An avulsed tooth is a dental emergency and requires immediate treatment as it can result in mouth pain.

Our dental specialists, Dr. Christopher Adams Dr. Andrew Johnson, are highly skilled in treating tooth avulsions and will help save your tooth.


Causes of Tooth Avulsion

Tooth avulsions are caused by a significant amount of force applied to the mouth. Usually falls, assaults, traffic accidents, sports accidents, and bicycle accidents can lead to tooth avulsion.
Sports injuries are the most common cause of tooth avulsions, especially in martial arts, lacrosse, hockey, skating, rugby, and football.


What are the Symptoms of a Tooth Avulsion?

An avulsed tooth is one that has been knocked out of your mouth completely. When a tooth gets avulsed, no part of it stays inside the mouth. Symptoms of tooth avulsion include mouth pain and a gap where the tooth used to be.

When you lose a tooth, you may experience bleeding. Taking an aspirin is not recommended to lower the pain as this will increase the bleeding. Delayed treatment can cause nausea, dizziness, and, worse, head trauma.


Prevention of Tooth Avulsion

If you play a lot of sports, you can prevent tooth avulsion by wearing a mouthguard. A mouthguard will protect your teeth from trauma, particularly in contact sports like hockey and football.


Tooth Avulsion Treatment

If you get to your dental professional as soon as your tooth gets knocked out, your doctor will pick up the tooth by the crown while avoiding the tooth and rinse it with milk or water. Then, the tooth will be positioned and placed into the socket.

The implanted tooth will be splinted to the surrounding teeth for a week. If you have fractured the bone around your tooth, the splint might remain in your mouth for six weeks.

The pulp condition will be evaluated, and if necessary, a root canal will be scheduled within two weeks. To help with the pain, an antibiotic will be given to you for a couple of days.


How to Care for Your Tooth after a Tooth Avulsion Treatment

After reinsertion, you should avoid consuming any food that is too hot or cold. Moreover, use a soft toothbrush to brush your teeth after every meal.

For the first two weeks, you might be asked to only consume liquids or soft foods. An antibacterial chlorhexidine mouthwash will also be given to you to ensure that your tooth does not get infected.

At Peak Endodontics, our dental specialists ensure that special attention is paid to your condition before a treatment plan is finalized. The extent of damage, the condition of the tooth, surrounding fractures, and the condition of the patient will be considered. If your tooth gets knocked out and you do not know what to do, do not hesitate to contact us at 425-358-9033.