Symptoms of a Cracked Tooth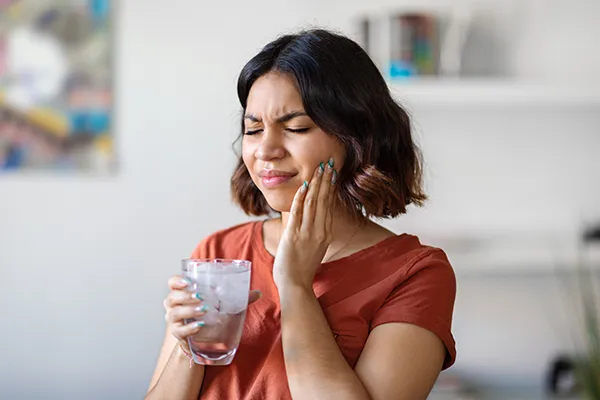 A cracked tooth, also known as a fractured tooth, is when a crack forms in the tooth. Sometimes, the crack can be harmless, but other times, it can cause the tooth to split or break. If not treated immediately, a cracked tooth can cause permanent damage to the nerve.

Our dental specialists, Dr. Christopher Adams and Dr. Andrew Johnson, ensure that a cracked tooth is recognized and dealt with immediately to prevent the growth of an abscess. We try to save the tooth so that it does not need to be taken out.


Symptoms of a Cracked Tooth

It is possible for a cracked tooth not to show any symptoms at all. Some individuals may have cracked teeth without even knowing that they do. These cracked teeth are harmless, and they do not require any treatment.

However, if you are in pain each time you chew or bite, have swollen gums around the cracked tooth, or are dealing with a sudden sensitivity to sweet food, your cracked tooth requires dental attention.

Keep a lookout for pain that comes and goes, as well as any discomfort around the teeth that is difficult to pinpoint. All of these are symptoms of a cracked tooth.


Causes of a Cracked Tooth

There are many causes of a cracked tooth, such as biting down on a piece of food with too much pressure, grinding the teeth aggressively, any physical injury during sports, or an existing filling that weakened the tooth structure over time.

Any sudden changes in temperature can also cause a tooth to crack. If you burn your mouth while drinking a cup of hot tea and then decide to drink a cold glass of water to soothe your pain, your tooth could crack on impact.


Types of Cracked Teeth

Cracks in the tooth can vary in depth, length, and where the tooth is located. Small cracks, known as craze lines, form inside the tooth enamel. These cracks are usually not visible to the naked eye and do not need treatment unless you experience pain.

Oblique supragingival cracks are found on the crown but do not make their way below the gum line. Hence, they are not too painful. On the other hand, oblique subgingival cracks make their way below the gum line and can cause intense pain.

A split tooth is another type of cracked tooth that causes the tooth to split into two. This might require root canal treatment if dental care is not sought immediately.

Oblique root cracks appear underneath the gum line, below the jawbone, and cannot be seen on the surface of the tooth. In most cases, the tooth will have to be extracted.

At Peak Endodontics, our dental specialists are trained to determine the type of cracked tooth the patient is dealing with and provide treatment accordingly. A unique treatment plan is devised to reduce discomfort and avoid further dental complications. If you are suffering from pain and do not know what is causing it, do not hesitate to contact us at 425-358-9033.