Digital X-Ray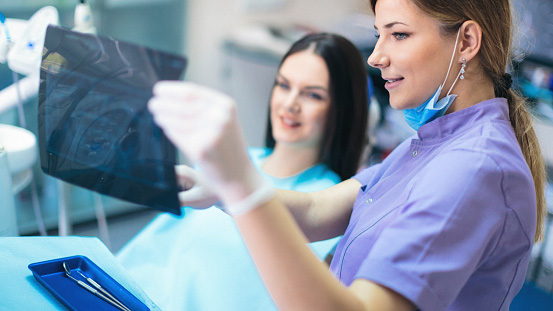 At Peak Endodontics, we use the latest in digital radiography technology to give us a complete picture of your teeth, jaw, and gums. Digital radiography is a type of digital x-ray that uses sensors to take an image of your teeth instead of traditional film. This type of digital x-ray technology is leaps and bounds better than the traditional x-rays you may remember getting as a child.

You probably stopped using traditional film to take pictures years ago, so why wouldn't your dentist do the same?

These digital images are clearer, the results are developed faster, the amount of issues we can spot on them is greater, and it puts out less radiation than a traditional x-ray machine.


Digital Sees Issues Clearly

By using digital radiography, we get an incredibly detailed image of what exactly is going on in your mouth. These detailed digital images can show even incredibly small areas of decay occurring between your teeth and gums. We use this enhanced level of detail to check on the health of your teeth around fillings and spot early warning signs of infections and gum disease. These digital x-ray images can also show us more serious issues like cysts and tumors earlier and in greater detail than ever before.

And over time using digital radiography, we can better track your overall dental health. By having a series of crystal-clear images taken of your teeth at each visit, we can track dental movement or erosion over the course of years, so we can spot otherwise hard to detect changes that could indicate serious underlying issues.

All of these individual benefits come together to form the biggest plus in our office: being able to enhance our ability to detect problems as early as possible.

When we spot an issue early, typically the treatment is much easier since we can address problems before they develop into bigger issues. That means less time in the dental chair for you.


What Digital Means During Your Visit and Beyond

First things first, digital means quicker access to the images. What once used to take the duration of your appointment can now be developed in minutes and displayed in high definition on our computer screens. That means less time waiting around for results and more time spent focusing on your care.

The impact on you and the environment is improved as well. Digital x-rays require far less radiation and don't require the use of harsh chemicals to be developed.

Digital also means your dental images can move easily with you in case they need to be transferred to an outside specialist or sent to your insurance company. No more lugging around or mailing bulky manila envelopes full of fragile film.

Make an appointment today with Peak Endodontics to see the difference digital radiography technology can make when it comes to your overall dental health. Our goal is always to increase patient care, and we are excited to show you how digital radiography technology can help us achieve that goal. Call us now at 425-358-9033 to get connected with our team.