Apicoectomy Recovery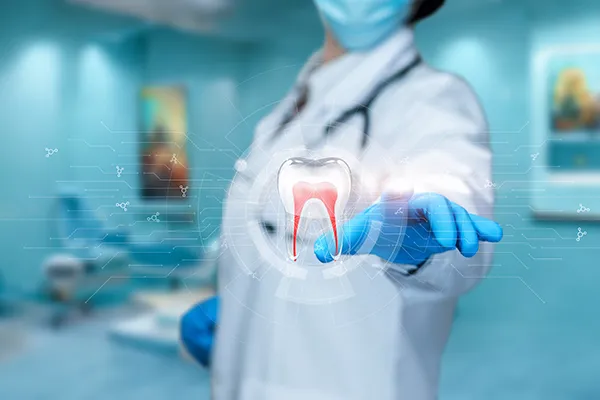 An apicoectomy is also known as an orthograde root canal or root-end filling. It is just like a root canal but more complicated, as it involves carefully removing the tip of the root of a tooth. After the tip is removed, a biocompatible substance is applied to the open space so that the root structure remains intact.

Our dental specialists, Dr. Christopher Adams and Dr. Andrew Johnson, specialize in endodontic procedures, including apicoectomies. We ensure that our patients receive the best care and guidance.


What Happens During an Apicoectomy?

The apicoectomy procedure involves an incision in the gum tissue that helps expose the root. Any infected or diseased tissues, along with some part of the root tip, are removed.

The tooth is sealed so it does not get infected, and depending on the patient's tooth, a bone graft might be used for extra support. After the tooth has been cleaned, the incision is closed.

An apicoectomy helps save teeth that would have been lost. The tooth's root is exposed to further access to diseased and infected teeth so they can be cleaned and rehabilitated. It also allows access to the bones around the tooth for grafting. If treatment is not received in time, the tooth must be removed.

Even though an apicoectomy is more invasive than a root canal, anesthesia is administered to lower pain during the procedure.


Apicoectomy Recovery

Even though an apicoectomy is a surgical procedure, recovery does not take long. If an additional procedure, such as bone grafting, has been performed, the recovery period will be extended.

Once the procedure has been completed, you can expect some swelling, bleeding, and side effects from pain medications, such as fatigue and dizziness. Usually, pain medications like ibuprofen are administered to lower discomfort after the surgery. Some patients might be given antibiotics to help with the healing process.


Apicoectomy Aftercare

After your surgery, taking good care of your teeth is essential. Do not brush the area where the surgery took place until your dentist gives you the green light to do so. Avoid vigorously rinsing your mouth, as this can irritate incisions as well.

The use of nicotine products such as cigarettes and nicotine is prohibited before and after the procedure until your tooth has healed completely. Moreover, a soft food diet is recommended for a couple of days after the procedure.

You will be asked to visit your dentist a few days after the apicoectomy to assess healing and ensure that you are recovering well.

At Peak Endodontics, our dental specialists ensure that patients feel significant relief after the procedure takes place. Special attention is paid to each patient, and a unique treatment plan is devised to extend the life of the infected tooth. You should expect the sutures to dissolve after six weeks, but full recovery will take a couple of months. If you are experiencing pain and want to put an end to your suffering, do not hesitate to contact us at 425-358-9033.